Okay, so remember last Christmas season when I posted about the magnificent (ly awful) Silent Night Deadly Night movie franchise?  Netflix decided* to send me the DVD "Silent Night" (yes, I still have the DVD option on Netflix, because I have quite the backlog of obscure horror movies to watch before I cancel it).
Serial killer in a Santa costume?  Sounds a whole lot like the "Silent Night Deadly Night" movies… The film doesn't bear much resemblance to the original movie (thank god) and adds some much-needed comedy.  Like in this stellar bit of dialogue:
Mom: What are you doing, honey? Those are Mommy's heart pills.  I need those.
Bratty teen: You need to take me to the mall.
Mom: But I thought we'd go to church tonight.
Bratty teen: Fuck church.
(Don't worry, the bratty teen gets what's coming to her).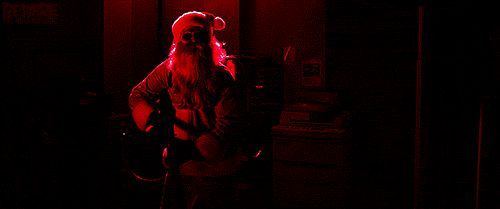 In the original movies, the Bad Santa goes on a killing spree because he was abused at a Catholic orphanage.  In this movie, Bad Santa goes on a killing spree because as a child he witnessed another Bad Santa killed his dad with a flamethrower.  The cycle of abuse…
But perhaps as a tribute to the original movie's tagline "He knows when you've been naughty," Santa goes after a crew making amateur porn, a pervy priest, and a hussy dressed in a skimpy Mrs. Claus costume (who had made some lovely puns about  "lightening Santa's sack" and "Santa coming early" just a few moments before)
Priest: Sin is the beating heart of Christmas – pain and war.  Fear and sickness, death and famine, "American ldol" and internet pornography!
And as in another Jaime King movie that was also a remake**, the villain chases a topless woman for a good five minutes.
Overall, this was no "Silent Night, Deadly Night V: The Toy Maker" but it was a campy horror that didn't come close to broaching the "true meaning of Christmas," therefore making it perfect for a July viewing.
Christmas carols featured: Up on the Housetop, Deck the Halls, Jingle Bells, and of course, Silent Night (including a heavy metal cover with new lyrics!)
Christmas related deaths: A disappointing 3 (two deaths involve Christmas lights – electrocution and choking, one death involves antlers).  Does getting run through a wood chipper at a Christmas Tree farm count?  Because then 2 more.
There was some great gore given that this Santa enjoys carrying a scythe (that sometimes turns into an ax).  I mean, you could count all the deaths committed by a man dressed as Santa as "Christmas-themed" but I feel like that's too easy.
*Netflix sent this to me because it was on my list, of course. Don't remember how long ago I put it there but I definitely wasn't expecting it.
**The "My Bloody Valentine" featured a woman running from a killer fully nude for what felt like 10 minutes.  Also, just realized that Jaime King has not only starred in three different horror movie remakes (the third being "Mother's Day"), but all three are themed around holidays.