I was tagged by Lori – thank you!!
RULES:
Thank the person who tagged you!
Link back and credit the original creator (GoodeyReads)
Answer book questions about yourself.
Answer the other questions about yourself.
Change the last 5 questions when you tag someone else (if you want! – the more random the better)
Tag at least 3 people.
Have fun! (ooh, that was cliche)
A BOOK ABOUT WHERE YOU'RE FROM (CITY, STATE, COUNTRY — YOUR CHOICE)
After the Woods by Kim Savage is set in Massachusetts, where I grew up. I actually bought this book after hearing her speak on a panel at Boston Book Festival, because the book is set in and around Middlesex Fells, where I've gone hiking!
A BOOK ABOUT YOUR FAVORITE NON-BOOKISH HOBBY
For over five years now, I've been taking aerial silks classes. I became obsessed with Cirque du Soleil and then discovered that there are places where you can learn all the circus stuff. I've also taken classes in flying trapeze, handbalancing, and even though it's not technically circus-related, aerial yoga.
A BOOK ABOUT A FEAR OF YOURS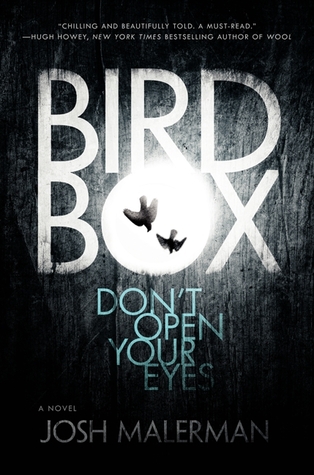 In Bird Box by Josh Malerman, there's a scary something that gets in your brain if you see it. The idea of blindness – especially doing some of the things the characters do in the book – freaks me out. My vision is pretty terrible and I'm sure it's only going to get worse with age, so my fear of going blind isn't too far from possible, which makes it even scarier.
A BOOK ABOUT SOMETHING THAT BRINGS YOU JOY
All of Zilpha Keatley Snyder's books bring me joy. Libby on Wednesday, however, is about the thing that brings me the most joy: writing. I think it was the first book about a girl my age (at the time, I was around 11 or 12) who wanted to be a writer.
A BOOK ABOUT YOUR CAREER/WHAT YOU'RE STUDYING IN SCHOOL
I Work at a Public Library by Gina Sheridan is the perfect book for this, because I work at a public library. This book is filled with the kinds of weird and lovely encounters with patrons one can expect from a job like mine. If you want a taste, you can check out the blog.
WHAT JOB WOULD YOU BE TERRIBLE DOING?
There are many jobs I would hate, because I'm an introvert. But jobs I wouldn't be good at? Probably being a teacher. I've never been very patient when someone doesn't understand what I tell them the first time…
WHAT'S A SUBJECT YOU WISH YOU KNEW MORE ABOUT?
I love to learn, so there are a lot of subjects I'd like to learn about! History, languages… but I'd love to know more about building things, like woodworking. It's a skill that would be really useful.
IN YOUR OPINION, WHAT IS THE BEST DAY ON THE CALENDAR AND WHY?
Halloween!! Costumes, horror movies, and candy – what more do I have to say?
WHAT IS THE CRAZIEST ITEM YOU SPENT WAY TOO MUCH ON?
I am not one for spending too much money on crazy things. I did recently impulse buy a Robotime dollhouse kit that I am painstakingly putting together. (It wasn't very expensive, though).
WHAT'S A QUIRKY THING YOU DO?
I listen to music in the shower. I don't know, it helps me time how long I've been in there. But I don't sing in the shower… I save that for the car.