I saw this over on Wildwood Reads and thought it was a cute idea to get me in the Halloween spirit!
#1: Favorite Scary Must-Read for Halloween
This year the book I was most excited to read was The Last House on Needless Street by Catriona Ward. And it was quite creepy! Definitely not what I expected at all. I loved the different points of view and the psychological nature of the story.
Summary:
Catriona Ward's The Last House on Needless Street is a shocking and immersive read perfect for fans of Gone Girl and The Haunting of Hill House.

In a boarded-up house on a dead-end street at the edge of the wild Washington woods lives a family of three.

A teenage girl who isn't allowed outside, not after last time.
A man who drinks alone in front of his TV, trying to ignore the gaps in his memory.
And a house cat who loves napping and reading the Bible.

An unspeakable secret binds them together, but when a new neighbor moves in next door, what is buried out among the birch trees may come back to haunt them all. 
#2: Scariest Book Cover
I've been looking at the cover of Mary, Will I Die? by Shawn Sarles on my Halloween book display at the library and it is so, so creepy! I have not read it yet but I feel like I will have to check it out soon.
Summary:
It starts innocently enough. Four kids – three girls, one boy – are at one of their houses, playing games. One of them has read about "Bloody Mary" and the idea that if you look into a mirror and say her name thirteen times, she will show you the future. Some legends say she'll show you your one true love or a skull to mark your death within five years. Others say that conjuring Bloody Mary will bring her into your world.

Both sets of legends are true. The kids go through with the act, saying her name thirteen times. One girl looks in the mirror and sees her longtime crush. One girl looks in the mirror and sees the boy in the group. But she pretends to see something else. One girl looks in the mirror and sees a girl she's never seen before but can't get out of her mind. And the boy . . . he sees a skull. But he pretends to see something else. They try to laugh it off. And mostly they forget about it. Or at least they don't talk about it. Yes, over the next few years, whenever they look into a mirror, it's like there's always another figure standing in the background, getting closer.

Just short of five years later, the four of them are no longer friends, having gone on separate paths. The girl whose house it was has always tried to avoid the mirror they used – because she always sensed someone in the background. One morning as she's passing by, she sees much more than her own reflection – it's a scary figure taunting her. She startles and breaks the mirror. When the pieces are put back together (barely), the figure is gone.

That day in school, a new girl arrives. Her name is Mary… 
#3: If you could go trick-or-treating with any author, who would you go with?
I would definitely choose Dawn Kurtagich! Not only does she write amazingly creepy horror novels, but she also does some amazing costumes – check out her Instagram for more of her Halloween looks! I feel like I could talk to her ad nauseum about horror movies too.
Her novels in order of creepiness level (in my opinion – but they are all very creepy!):
And the Trees Crept In (UK title: The Creeperman)
Teeth in the Mist
The Dead House
#4: If you could dress up as any bookish character for Halloween, who would you be?
Not to outdo this question, but I have already dressed up as a book character this season and I'm currently making a book costume character!
The first costume, which I made a few years ago, is Claire from the Outlander series. I used two of the official costume patterns (Pattern 8161 for the outer garments, and Pattern 8162 for the undergarments). I tried to get the colors as similar to those on the TV show as I could, and I'm super happy about how it turned out!
My next costume is from The Witcher series. I love Yennifer's fashions on the Netflix show and last year I made her gray fur collared coat for Halloween. This year I'm doing one of her black dresses that has a strappy detailing around the collar and sleeves.
I suppose technically these are both based on TV shows, but the TV shows are based on books, so it counts, right??
#5: If you could find anything (from any book) in your trick-or-treat stash, what would you hope it would be?
This is a tough one… I'd have to say Lugh's walking stick from the Mercy Thompson series by Patricia Briggs. No one is quite sure about the full extent of its powers and it magically turns up at opportune moments.
#6: In what fictional world would you like to go trick-or-treating?
Since my main goal would be to get as much candy as possible, I think I'd pick Willy Wonka and the Chocolate Factory by Roald Dahl. But only for all the OSHA-approved candy that won't kill me.
#7 What book villain would you like to not meet in a dark alley on Halloween?
I'll have to go with Pennywise from Stephen King's It for this one: It can morph into your worst fears, which means It would automatically be the scariest thing I can think of!
#8 What would you rather dress up as: vampire, zombie, werewolf, or Shadowhunter?
Werewolves are my fave so definitely I'd have to pick that!
#9 Pick a candy from Harry Potter that you would love to find in your stash!
Chocolate frogs would be my go-to candy. Most of the candy from Harry Potter actually sounds kinda gross but chocolate is always a safe bet. Plus they come in a cool box with a playing card!
#10 What is your favorite Halloween candy?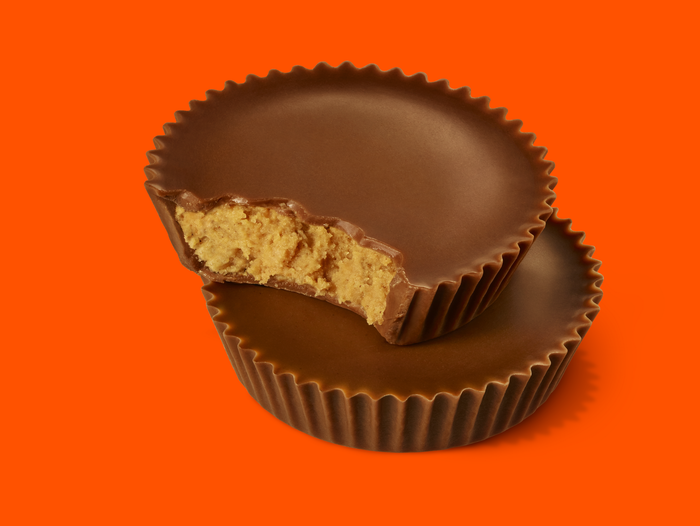 My favorite is probably Reese's Peanut Butter Cups, with Almond Joys and Snickers for a close second.
---
This was a fun little diversion! If you are so inclined to do this tag on your own blog, I'd love if you tagged me!