If you're like me, you're going through Stranger Things withdrawal.  It's Halloween time, and yet there will be no new season.  How am I supposed to fill my craving for creepy 80s throwback horror?
With books, that's how.  Here's a list of books that might help satiate your Stranger needs.
---
The Sacrifice Box by Martin Stewart has all the elements that I'm looking for a Stranger Things fix: lots of 80s references, a group of 5 young teens dealing with some paranormal creepiness, and a group of adults who are concurrently dealing with the same stuff.  I mean, the title font on this cover is definitely calling to the Stranger Things crowd.
It by Stephen King is a must on this list, because the creators of Stranger Things were clearly inspired by this creep-fest.  Eighties setting, check.  Group of teens with one girl, check.
And if you didn't know that Finn Wolfhard, who plays Mike on Stranger Things, is in the new It movie, now you do.
I have to add The Body by Stephen King, too.  This is the story that was made into the acclaimed movie Stand by Me, and follows four friends en route to finding a dead body.  The premise might sound creepy, but the story is more about friendship and that cusp between childhood and adolescence.  And while this takes place in the 1960s, somehow this holds a bit of 80s nostalgia since that's when the movie was made.  The group of friends definitely resembles the Stranger Things boys in a lot of ways.
If the Upside Down freaks you out, look no further than the duology Dreamfall and Neverwake by Amy Plum.  Seven teens trapped in a world of their own nightmares means they must battle zombies, static monsters, and of course, creepy clowns.  There's also a girl with a shaved head and an odd name.
My Best Friend's Exorcism by Grady Hendrix will totally give you Nancy and Barb feels.  This story of two friends in 1988 is chock full of pop culture references that add great humor to a strange situation: one friend believes her best friend is possessed.
The Dead Boys by Royce Buckingham has exactly the right creepy tone for a Stranger Things readalike.  Missing boys and a tree straight out of the Upside Down give this middle grade story serious chills.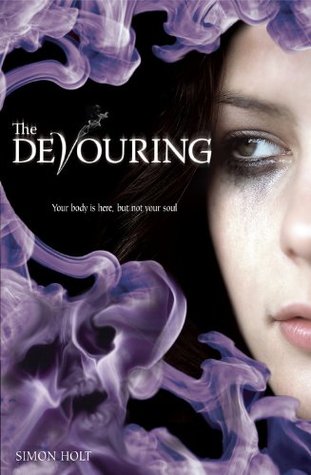 Finally, The Devouring series by Simon Holt features a fearscape just as scary as the Upside Down, where creatures called Vours hunt the living.  The main character loves horror movies, so you'll get plenty of references to all those awesome 80s horror movies.
I hope I've saved you from binge-watching Stranger Things again, or at least given you another option.  Do you have any books to add to this list?  Let me know in the comments!