In this series, I will be talking my process for writing novels. I'm a "pantser" so often I don't think about the steps I take in an organized way, and it does vary from novel to novel. But there are definite steps I take in the novel-writing process that are similar in each stage. If you'd like, check out Part 1: Inspiration and Part 2: First Lines.
Plot Points & Structure
Before I begin writing the first draft, I usually have an idea of the story or character arc.
This does vary, however. Sometimes I just know how I want it to end: the character starts in this place, and ends up in that place. Other times a story is more internal, and I know how the character will change by the end. And there are stories where I know the midpoint reversal, but not quite how it will all play out in the end.
This is the point where I often come up with my novel's structure, if it differs from a straight one-character POV.
A few examples:
A novel with a strong structure is a lot easier to write than one without. With Warriors, for example, I wanted to rotate between three different perspectives, with an alternating fourth perspective thrown in every few rounds. And this made the story strangely easy to write. I knew who had to be doing something when, and it kept the story moving forward even if one character was stuck. The Horizontal Ladder had a similar structure with the added layer of the school year. There were four parts, one for each year of high school, and each part had a chapter from one of three different characters in each month of the school year.
You can also structure a novel by thinking about classic novel structure, with Act One, Act Two, and Act Three. I don't usually look at this type of structure until revision, but I also like to feel my way through a novel. The more you read, the more this story structure is internalized and it will happen without you thinking about it, which feels more intuitive to me. That being said, I often know what the inciting incident will be, what the midpoint reveal or reversal will be, and either the climax or the result of the climax. These are major plot points in the classic three act structure – the inciting incident leads into Act Two, the midpoint marks the middle of Act Two and the beginning of the build to the climax, and the climax leads into Act Three.
At this point I may have already written a first line, and so by now I have some idea of the narrator's voice and have usually decided if this will be told in first-person or third-person, so it will help with the structure.
A few resources for novel structure:
Save the Cat Writes a Novel by Jessica Brody – the Save the Cat beat sheets are good for plotting out the major moments in your novel, and there are several different "formulas" for various genres
The Plot Whisperer by Martha Alderson
Jami Gold's Worksheets for Writers – a collection of various worksheets and checklists to help with plotting and revision
Curiographic's Story Spine – super basic, but it's all I normally use when I set out to start writing.
The 3-Act, 9-Block, 27-Chapter Method – there are several great articles out there explaining this method of outline, but I like that this one uses The Hunger Games as a master text. I used this structure while I was writing We Live in the Dark. Katytastic also has a video explaining this one, if you prefer (and she has lots of other writing videos too!)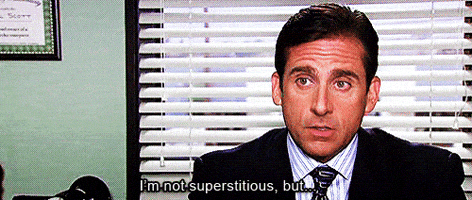 This all looks super official, but here I've not even started writing yet! I usually don't write any of this planning down. It's a weird superstition that if I write down the ending I won't make it there. Like, I'll get bored with the story or something, because I already know the ending. Even though in my head I already know the ending?
And I do think that there is something real to this superstition. Sometimes I won't even talk about my novels as I'm writing them, because if I start telling people what the book is about and what's going to happen at the end, it's the same thing.
*whispers* but if the ending stays in my head it's still a secret!
So yeah – if you've already told the story, but none of it is written down, why do you still need to write the story? The magic of discovering what happens is gone.
That magic of discovery is the whole draw of being a pantser!
We've got our idea and our first line and our plot points… Next week we'll actually start writing in Part 4: The Rough Draft!